Resource & Exhibitor Fair
Visit the Resource Fair and Exhibitor Fair tables opening at 8:30 a.m.
Visit the  AFSP Booth  and review the latest  AFSP reference materials  and learn how to get involved with the AFSP Colorado Chapter.
Meet local professionals, counselors, staff & representatives from mental health and suicide prevention organizations as well as businesses that support the cause.
Buy Butterflies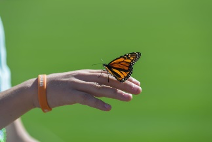 Honor loved ones during the Opening Ceremonies Butterfly Release. Purchase a butterfly (CASH ONLY) on a first come, first served basis, the morning of the walk.
Hope Notes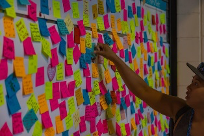 Visit the HOPE NOTES wall & help spread the message that it is possible to overcome suicidal thoughts and feelings and that there are many resources available to help those who are struggling to cope. Create a "Message of HOPE" for you, someone you know, or to provide strength to someone who might be struggling. Help us create a "Community of Caring" by sharing that anyone can experience suicidal thoughts but there is HELP, and there is HOPE.
Honor Beads
Losing someone to suicide or struggling with a mental illness can feel like no one understands what you are going through.
Unlike other illnesses, it is difficult to look at someone and know their connection. There is an honor bead for everyone, whether you have lost a loved one, struggle personally, support a friend and/or family member, or all of the above. Learn more by watching our honor bead video.
AFSP Merchandise Sales
Make sure to stop by the AFSP Merchandise Table to purchase AFSP swag to support and raise awareness about the cause. Cash and credit cards accepted.
Memory Area
Honor your loved one at the Memory Trees and see Memory Boards from previous walks.

Please bring a copy of a picture of your loved one (4" x 6" or smaller) to honor them at the Memory Trees. Pictures will not be returned and may be displayed at future walks, awareness and educational events.
Enjoy Refreshments
Food trucks will be in the Coors Field parking Lot, outside of Gate A near Check-in. Multiple yummy options for breakfast and lunch at various times. Vendors are donating a percentage of their proceeds to the walk. Water and snacks & drinking fountains available during the walk.
Team & Individual Photos
Snap a photo with AFSP props and post to your social media accounts.